PlaceMakers' Intrepid Inside-Baseball Highlight Reel from CNU23
Having just wrapped up what may have been our favorite CNU ever, in Dallas on April 29 through May 2, we want to share some of the ideas that resonated the most with us. The topics below are snippets of great insights from many voices, including the likes of Andrés Duany, Fort Worth Mayor Betsy Price, Doug Farr, and Lynn Richards on Social Connections; Dr. Antwi Akom and Dan Slone on Equity; Charles Montgomery and Hazel Borys on Happiness; Chris Leinberger and Peter Calthorpe on Economics; John Anderson, Bruce Tolar, and Ben Brown on Affordability; Marina Khoury, Susan Henderson, Matt Lambert, Jennifer Hurley, Peter Park, and Hazel Borys on Form-Based Codes; Jeffrey Tumlin on Parking (and Dancing), Andrés Duany, Hank Dittmar, and Sandy Sorlien on Lean Urbanism; Scott Bernstein and Lee Sobel on Pedestrian Malls; and Jon Coppage, Andrés Duany and Charles Marohn on Politics. The Congress was full of concurrent sessions we wish we could have attended, so if you're blogging other ideas or the pieces missing from these topics, please give us those links in the comment section.
In today's suburbs, people live in sociological archipelagos, because the car prevents people from seeing others. What creates a city that nourishes love? Voices that are participating. So many good things start with a simple conversation.
Community has to come before politics, or you will never have great cities and neighbourhoods. Full contact engagement means you have to be willing to hear the good, the bad, and the ugly. Try a "rolling town hall" to invite citizens to ride bikes with you. People will tell you crazy things in spandex.
The silver tsunami wants to lock it and leave. The millennials want to push the stroller to dinner. Walkable neighborhoods can offer up both. Fears about crime are often a hangover of memories. Things are different now in many of our urban neighborhoods.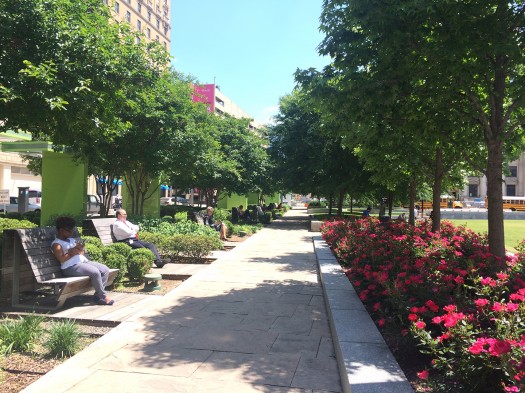 Equity
Stop designing our cities for communities, and start designing with communities. Ask us to help set the table, instead of inviting us to a table you've set.
You can only become more resilient by starting at the roots. You either get better or get worse, you never stay the same. Open up your eco-imagination to the cumulative causation that is happening in our neighborhoods, starting with things like food deserts and disconnected streets.
We have to be real with ourselves if we want to heal. If we want to grow. The history of America includes institutionalized privileged for white and white-looking people.
The U.S. has 5% of world's population but houses 20% of the world's prisoners. And they are mostly black, Latino, and poor. The average white family has 13 times more household wealth than the average black family. And that's not all thanks to hard work or better morals. It's because our policies are not race neutral.
Eco-apartheid is a more powerful term than environmental racism, because it captures inequalities beyond race, including space, place, and waste. For example the urban grocery gap, the fresh produce gap, and the transportation gap.
Race and cities really do matter, in terms of the shape of the city and how we navigate public and private space. Design is great, but it can't solve structural inequalities.
The best way to build healthy, happy, high-performing neighbourhoods is from the bottom up. Design cities with social integration at the forefront, with each neighbourhood having access to high performing infrastructure organized with a goal of placemaking, not building-making. Who cares if we have a great "community center" building so far away from the center of our community that no one can easily get there? Make the place connect with the people.
The fastest-growing cities are not full of sky skyscrapers, but rather ghettos and slums. There is genius in the ghetto. Build city planning teams that taps that genius by inclusively planning with the people.
Which seems to call for a little Leonard Cohen: "…There are heroes in the seaweed. There are children in the morning. They are leaning out for love. And they will lean that way forever…"
Small is big. Design cities for many with a bit, not only for the few with a lot. Are complete streets really complete if only one demographic uses them? We need more training, mentoring, and incubators for social entrepreneurship in communities. Small can be good.
The roots of innovation have always been created by millions of grassroots people finding new ways of surviving and thriving. We hope Dr. Antwi Akom's passionate plenary on social equity, with Dan Slone facilitating, might be just the beginning of us seeing him at future Congresses. Most of the ideas in this equity section are from Dr. Akom.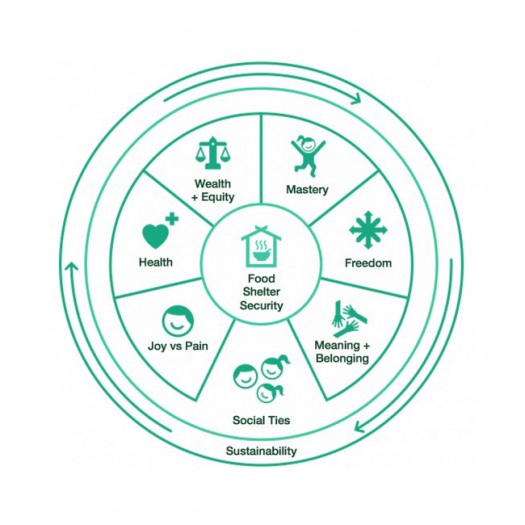 Happiness
Once our basic needs are provided for, increased wealth does not increase our happiness appreciably. Happiness is due to our sense of belonging more than our income. So much of our sense of belonging has to do with the form of our neighborhoods and cities.
How can we design environments that foster trusting relationships and trust-building encounters? How do we create city systems that enable people to spend more time with family, friends and community? How can we use design to help people to feel more control over their social interactions by enabling them to advance or retreat as they wish?
The elements of wellbeing wheel pictured above, the methodology developed by The Happy City author, Charles Montgomery, is one way of looking at things. It proposes that wellbeing grows from having food, shelter, security, joy, health, wealth with equity, mastery, freedom, meaning with belonging, and social ties brings it all together. A group of 40 CNU-ers spent Saturday together working on how to incorporate their work – that's usually under the Charter for the New Urbanism – with the elements of wellbeing.
Social connection is the most important element of wellbeing. People who are isolated are at a greater risk. In the 1995 heat wave, Chicago was hit hard. Those who died were predominately isolated. Death rates in Chicago's social urban fabric were 1/10th in comparison.
The most common household in the U.S. is someone living alone, the state associated with the worst mental health and unhappiness. This makes our gathering places more important than ever.
The more trusting we are, the happier we are. Plus, it's good for the economy, indicating higher household incomes for more trusting countries. And it turns out that we can trust each other more than we assume. When we connect with strangers, it gives us a more accurate view of trustworthiness and increases our level of trust.
Social tie density – counting the number of people we interact with – predicts things like a city's productivity, including GDP and patent registration.
We overestimate how happy a big house and a large paycheck will make us. Although we "drive 'till we qualify" for a small enough mortgage to fit our paycheck, it turns out that the long commute offsets the satisfaction of the bigger house in the 'burbs, because our life satisfaction goes down as our commute time increases.
We tend to be kinder to each other on foot or while taking transit than we do when we are behind the wheel. Vancouver Sun reported that people experienced rudeness 43% of the time while driving, 24% while on transit, and 17% while walking.
Nature makes us more caring. In places with less vegetation, there is more crime of every kind. Not to mention that each 10% increase in street tree canopy drops midday temperature 1.8° F.
Humans tend to over simplify complex problems. Beware when we think we've found a simple solution. Wellbeing is complex.
Many of the 27 points of the Charter for the New Urbanism map directly into the elements of wellbeing. However, many of the elements of wellbeing aren't directly referenced in the Charter. Do we need a preamble? Or perhaps a Cannons of Wellness, similar to our Cannons of Sustainability?
Outside of measures such as the H+T Index, Walkscore, LEED-ND, AARP Livability, and form-based code counts there aren't measures of effectiveness at implementing the Charter. In our work in the year ahead, let's ask:
1) How can the global measures of wellbeing currently in place start to modify how we think of city planning and urban design?
2) How can we map the Elements of Wellbeing into the Charter for the New Urbanism, or vice versa.
3) How do we move from correlation to causality in our measures?
Economics
There's a big difference between 'standard of living' and 'quality of life.' Americans think Europe is taking a nosedive, but it's not because the quality of life is still so high.
Walkable urban places (WalkUPs) generate 12x more revenue per acre and 4x more net returns to local government over suburbia in Boston. Those WalkUPs are changing the landscape of Boston. 74% of walkable, urban Boston is also served by rail transit. That's no coincidence.
However, in general, the market is not building enough walkable urban places, because homebuilders don't understand what urbanists are talking about. WalkUPs meet demands for the two extremes: the market and social equity. People love places for people!
68% of people in the Dallas Forth Worth metroplex prefer walkable communities, but the supply is currently 4%. More retrofits and infill wanted!
Business parks and other single-use development are becoming bulldozer bait, to make way for WalkUPs in cities that make building them legal via tools like form-based codes.
If you drop one car from your family, you increase your mortgage capacity by $150,000. That assumes you've just turned down a new Camry, which the AAA says costs $9,200 per year, in pre-tax dollars. That translates into $150,000 more mortgage capacity at 4% rates, taking into account mortgage tax deductions.
The current difference in GDP per capita between walkable and un-walkable U.S. cities is equivalent to difference in GDP per capita between Germany and Romania.
The top six U.S. cities with the highest numbers of college-educated people rank highest in walkability and density. The correlation is real. Zoning that delivers something that the market doesn't value plus the natural NIMBY response result in a shadow tax of 50% in San Francisco, and 20% in D.C. and Boston. Shadow Tax is the increased valuation of real estate caused by onerous zoning, mainly comprised of increased land value above "normal."
Value is in proximity. Highways export value out of cities.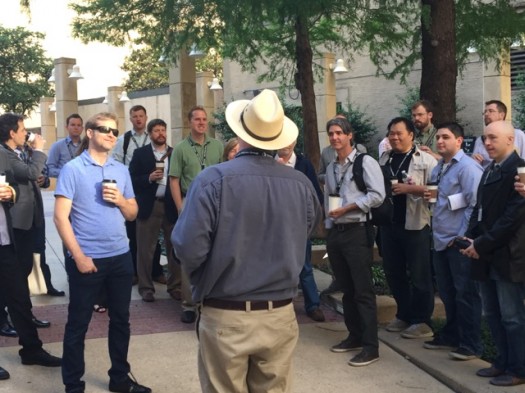 Affordability
Looking for obvious growing trends, especially as we look ahead to next year's CNU gathering in Detroit? One surely is the intersection between equity/affordability issues and New Urbanists' skill sets in small-scale neighborhood development.
John Anderson hosted his second annual Rookie Developers' session on Friday morning in a park near the host hotel. Last year in Buffalo, it was a larger-than-expected group of hopefuls. This year, there were even more folks with even more focused ambitions.
The photo above wildly exaggerates the gender make-up of the group. It's just that the guys needed more tutoring. Women were in a near-majority, and they self-organized more quickly than the men, then huddled in groups off to the side to exchange ideas and build networks.
To further underline the importance of the topic:
The Grand Prize among the 2015 Charter Awards went to Kronberg Wall Architects for their Iberville Offsites project in New Orleans. "The team skillfully used state and federal tax credit programs to renovate 46 houses for low-income and racially diverse long-time residents," read the reward. See Eric Kronberg's November presentation at a National Trust for Historic Preservation conference here.
The 2015 New Urban Guild awarded Mississippi architect/planner Bruce Tolar, a previous Charter Awards winner, the 2015 Barranco Award for guiding the post-Katrina cottage effort towards the completion of three model neighborhoods on Mississippi's Gulf Coast. Now fully rented as either residential or commercial units, the 70-plus structures in walkable infill neighborhoods successfully hit targets of resilience, affordability and curb appeal all at the same time.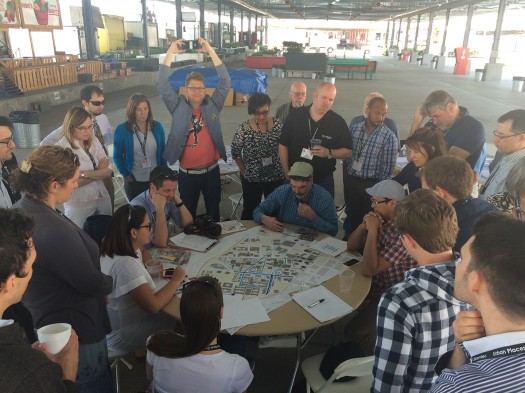 Form-Based Codes
The way to create an urban boundary is to create cities so lovely that people do not want to leave them. It's not a complete street if it's not a beautiful street. We're not asking that every street be super-slow. Let the interstates stay fast, but slow that Main Street down.
But keep in mind, if you try to make every street great, no street will be great. A/B grids are essential, with walkable streets being on the A Grid and service streets being on the B Grid. Both are woven together in the same neighborhood. The cities that are instead rolling out new suburbs like a carpet are simply creating the ghettos of the future.
Governing how the building meets the street is the single most important part of a form-based code. One of the most important things is for the front of the building to face the street. Streets and squares should be safe, comfortable, and interesting to the pedestrian.
Never EVER upzone without ACTION. Otherwise you get speculation, not development.
Density has perceived privacy issues, but the building being raised off ground by two feet changes everything. Many people think of transect zones as intensities, but urban design is critical to these character zones. For instance, landscaping and civic space standards across the transect zones let us tap into biophilia – the intrinsic bond between human beings and other living systems.
Don't feel that you have to design your alleys to the same standard as your streets. It's kills affordability, and creates "salleys."
Codes should allow change over time, from the inaugural condition to the successional condition to the climax condition. Doing anything else usually kills the market. Just as in any compelling story, character development takes time.
Special districts enable very creative urbanism, e.g. El Paso Airport or CentrePort in Rosser, Manitoba. These areas don't fit precisely into the character of the rural-to-urban transect, but can still include more walkability than large-scale uses have managed to in the past.
The SmartCode does not ban things, it allows things. Any single solution is usually what gets us in trouble. After the Denver form-based code was adopted, re-zonings dropped dramatically while permits skyrocketed. It was allowing things that the market wanted, and that the old zoning code did readily enable.
The planning side of house and the permitting side of the house are not always dwelling in the same house. The code is the software, but the people are the hardware, so it's important that the new codes are of the people and for the people, so that they can be implemented by the people.
Zoning is a local legislative power. And for most of North America, it is a barrier to great places. How can we take the range of form-based code and use-based code solutions and meet local governments where they are? A new code is not our goal, but rather crafting a better city.
Policies to reduce greenhouse gasses will eventually require land use changes to meet the caps. Market pressures for walkable urban places accelerate the movement. Form-based codes are in the works to deliver both for over 45 million people worldwide.
On Wednesday of the Congress, a 30-person form-based code workshop spent the day speed-dating the SmartCode, in a CNU 202 session. A walking tour gave time to talk through a prepared synoptic survey to extract the DNA of downtown Dallas, then in a workshop at the Dallas Farmers Market, participants calibrated the code to local conditions, and mapped the character zones. The day ended with a critique led by local developers.
Top Transect honors went to Matt Lewis, the 2015 Groves Award Recipient, for his form-based code work in the Texas cities of Hutto, San Marcos, and Austin.
Parking
Parking management is your best tool for managing congestion. The only reason cities have minimum parking requirements is to avoid the responsibility of managing parking.
Every empty parking space is a tremendous waste of money, usually between $30,000 and $70,000 per space. Believe it or not, developers know what their users want more than government, so why not remove parking minimums and let the market decide? Abolishing minimum parking requirements can actually combat gentrification by keeping land values stable and responsive to the market.
If you don't want to take it that far, you could start smaller. In some traditional neighborhoods, such as Bishop Arts in Dallas, they are lifting parking requirements on all old buildings to allow investment to happen.
Infrastructure is a way to force your great grandchildren to live by your values, even after you're gone.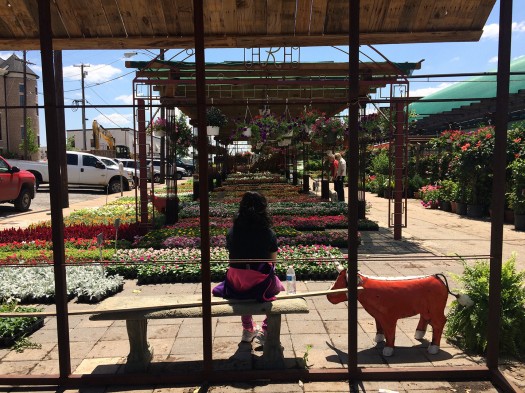 Lean Urbanism
Lean Urbanism is open-access, open-source, open-ended, allowing more people to participate in building and shaping their communities. It is both a project and a movement.
Over regulation eventually causes a great need for government subsidy. Lean Urbanism yields livability.
Lean doesn't do anything that someone else is doing, because that isn't lean. It employs subsidiarity to let the lowest competent level decide, at the last possible moment.
Common Ground + Creative Edge = Common Edge. A great place is aggregated out of small, important things.
Lean is common sense, no bigger than necessary, successional, and decided on by those who have to live with it (subsidiarity). Lean is outcome-oriented and therefore replaces rigid rules and red tape with flexible rules – hence pink zones and pink codes that have cut the red tape.
Pedestrian Malls
The pedestrian mall is the opposite of lean. Federally-supported ones generally failed, over 226 in total. But dozens were reinvented by local communities and are thriving. The failures tried to use pedestrian malls as transit malls, or blocked off main streets from vehicles altogether, and failed to serve both local communities and visitors.
A fantastic lite version of a pedestrian street was recently finished on two blocks in Somerville, New Jersey. The local community business coalition invested $675,000 on a street parallel to main street, and vacancies vanished.
History shows much confusion on walking versus vehicle access. Harlin Bartholemew's "Stop the promiscuous mixing of traffic" in the 1920s didn't help and the plans for limited access and elevated roads were matched with parallel plans for elevated and depressed pedestrian access, which turned out to be just plain depressing. Walkable places are countering this anti-miscegenation with peaceful integration.
Pedestrian malls can be successful in various conditions, however, there are no conclusive economic findings. Do at your own risk.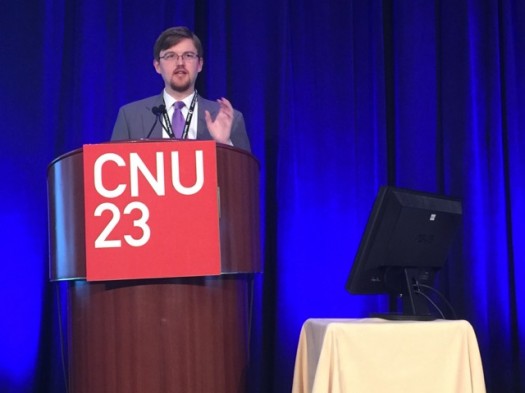 Politics
Here's an optimistic thought:
In a country increasingly politically polarized, New Urbanism appears increasingly capable of attracting thoughtful leaders among both liberal and conservative camps. The Bipartisan Placemaking session on Friday, moderated by Jon Coppage, associate editor of The American Conservative, packed the meeting room.
Two favorite quotes:
From Andres Duany: "We not running a democracy. We're inciting mobs."
From Chuck Marohn: "I don't see conservatism as not wanting change. I see it as having a sense of humility regarding the past. That is, the city reflects hundreds or thousands of years of fine-tuning by people. Who am I to think I know better?" And this, "Regardless of our politics, at the level of the family, we're all communists. My daughters have chores but, whether they do them or not, they still get to eat. We shouldn't be hardline applying our ideology at every scale. Real life is more nuanced than that." And finally, "Urban planners should have to go every year to an urban renewal site, plant a wreath, and apologize."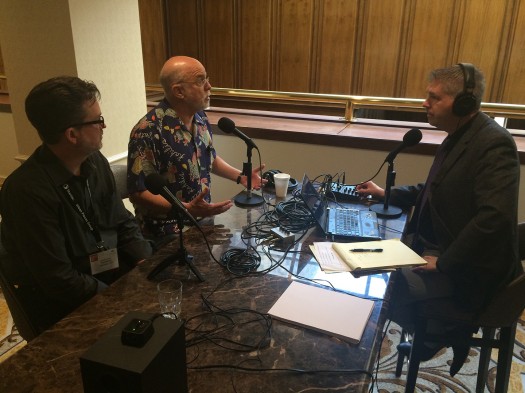 Conversations
Check out the Strong Towns Podcasts for a litany of conversations, and thanks to all the twitter users who did a great job of reporting on the big ideas. We highly recommend these Twitter urbanists on the subject of #CNU23, and thank them for helping us write this blog:
@AlyAndrews | @andres_duany | @ArtisanUrbanist | @benbronews | @blackurbanist | @BrewtosaurusRex | @ChrisLeinberger | @clmarohn | @cnu23dfw | @crlazaro | @DansloneK | @Downtown_Doc | @DPZandCo | @Edward_Erfurt | @fenmore37 | @greatstreetsATX | @Hailstromboli | @HankDittmar | @hborys | @I_SEEED | @IanLockwoodPE | @Infrastructor | @jeffreytumlin | @JenHurPlanner | @julie_yost | @johnthebad | @LeanUrbanism | @lrichardsCNU | @MarinaRKhoury | @MayorBetsyPrice | @mjl_urbanist | @myurbangen | @nadiamobee | @newurbanism | @PlaceMakersLLC | @PhxDowntowner | @sarmiento_casas | @Scott_CNT | @stevemouzon | @shagsss | @shanehamp | @SprawlRepairMnl | @stephenborys | @SteveMouzon | @StrongTowns | @suhender | @thehappycity | @VictorDover | @WalkableWPB | @walkplace
And special thanks to the 500 of you who joined us on the dance floor on Friday night! You rock.
Want to join in the fun next year? The conversation, debate and dancing renews at CNU 24, in Detroit, Jun 8-11, 2016. At that congress, we are hoping to hear more about water, energy, nature, climate resilience, gentrification, poverty, food/city interaction, and wellbeing.
—PlaceMakers, with Scott Bernstein
If PlaceShakers is our soapbox, our Facebook page is where we step down, grab a drink and enjoy a little conversation. Looking for a heads-up on the latest community-building news and perspective from around the web? Click through and "Like" us and we'll keep you in the loop.