The Town of Whitehall, Delaware
Whitehall is a traditional neighborhood development on 1,555 acres of undulating landscape overlooking the C&D Canal, with fingers of wetlands providing a unique environment set in traditionally agricultural land. The villages and towns of Whitehall are enabled by right under the New Castle County Hamlet and Village Design, an earlier PlaceMakers project.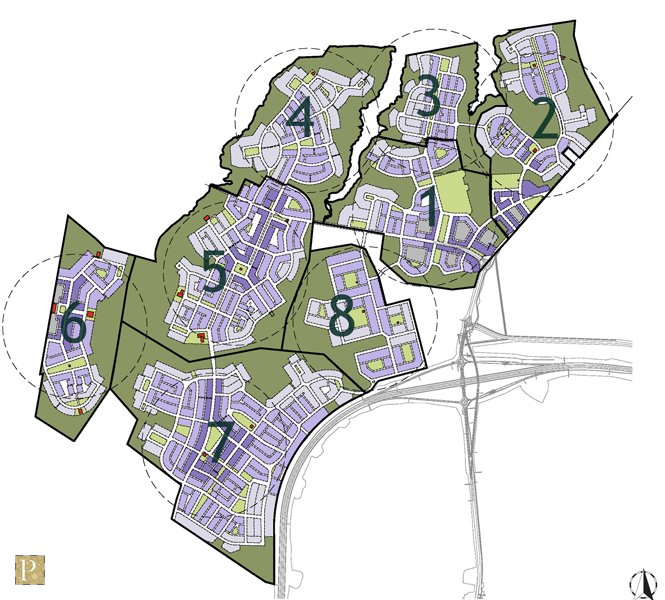 PlaceMakers won a design competition and with it the role of planning and urban design for Whitehall. Later, as the project moved into the earliest stages of implementation, we developed the town's brand identity, launched a stage-setting
website
to answer emerging questions, and provided
social media strategy
to begin the process of cultivating prospect relationships.
Finally, PlaceMakers assisted others with a pattern book of architectural design guidelines.
Respecting the proximity of Chesapeake Bay, Philadelphia, Baltimore, and New York, yet honoring the agricultural heritage of the immediate landscape, the Town of Whitehall plan delivers a modern take on a traditional town. Rich in walking trails, wetlands, and canal vistas, the walkable streets mix residences with compatible uses to make for active lifestyles. Clustering development preserves significant natural amenities and rural character.
Whitehall will be a place that caters to everyday life, with new homes and businesses of all types and sizes on friendly, tree-lined streets. Where a stroll down the block will take you just about anywhere you need to go. To school. To friends. To canal trails. To the park. To stores and offices at just the right scale and character for this emerging town.