Cochrane Lake | Rocky View, Alberta
PlaceMakers (operating originally as T-Six Urbanists) were engaged in early 2008 to develop a Hamlet Plan for Cochrane Lake through an interactive on-site week-long public design charrette. Cochrane Lake is a small rural settlement just north of the City of Cochrane, and within the one-million acre rural Municipal District of Rocky View, Alberta.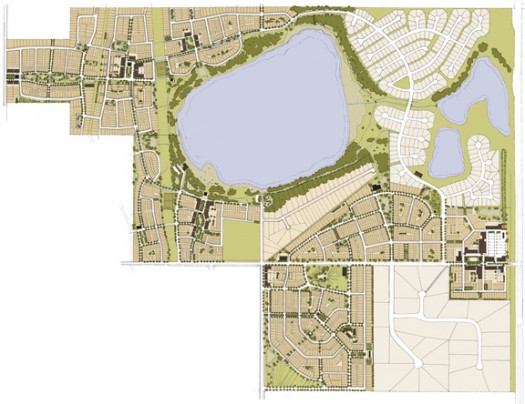 Over the past several years, regional policies in Alberta have increasingly called for future development to be focused into walkable, compact, mixed-use centres located at logical areas already served by infrastrucure. Through the Calgary Regional Partnership and the M.D.'s own growth studies, the Hamlet of Cochrane Lake is one such centre. Traditionally accommodating its non-agricultural growth within resource-consumptive large-lot subdivisions, the M.D. is today embarking on a restructuring of their rural settlement patterns to a more compact and sustainable form. To achieve this, it is recognized the municipality will need to adopt new regulations to enact the new pattern, and will also need to develop comprehensive master plans to guide future growth in each growth centre.
A workshop and charrette were conducted in the fall of that year prompting intense public discussion and an ongoing education and out-reach program. The resulting Hamlet Plan, currently underway, will establish design principles and guidelines, an illustrative master plan for the Hamlets' over 700 acres of developable lands, and the deployment of a form-based land use regulation based on the SmartCode that will eventually serve to regulate many of the M.D.'s growth centres.