Suburban Remix: A New Generation of Walkable Development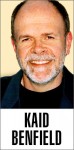 In 2001, a new book came out with my name (and those of two colleagues) on the cover.  It was a book of case studies of smart-growth alternatives to suburban sprawl, divided into three categories:  urban development, suburban development, and conservation initiatives.  I mention the book here not (well, not just) because I'm an incorrigible self-promoter but because it had three photos on its cover, one of which was of a then-new, multi-building and mixed-use development called Bethesda Row, located in suburban Maryland just outside of Washington, DC.
Bethesda Row has office space, retail, and multifamily housing in an architecturally varied and human-scaled setting with considerable appeal as a place to work, shop, dine out, and live.  Located not far from my home in DC, it is one of my favorite newer developments; several years after our book came out, I called it "the country's best suburban retrofit."  Upon reflection, that was maybe too much hyperbole; I'm not familiar with them all.  But of the many that I do know, Bethesda Row remains my favorite.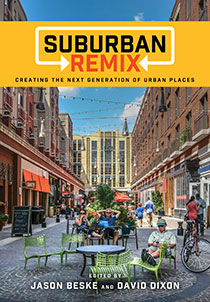 Today Bethesda Row is once again featured on a book cover, providing our first impression of a new and very good volume called Suburban Remix: Creating the Next Generation of Urban Places, edited by Jason Beske and David Dixon, and published by Island Press.  Beske is an urban planner and designer based in the DC metro area; Dixon is a multiple-award-winning, Boston-based architect and designer who leads planning and urban design for Urban Places, a division of Stantec (a large multinational company with some 22,000 employees on six continents). Suburban Remix comprises fifteen chapters written not just by the editors themselves but also by sixteen additional contributors.
(Full disclosure: I know, respect, and like very much several of these contributors and editors.  Nonetheless, I will give you an honest review.)
The premise of Suburban Remix is that we need more places like Bethesda Row, to respond to growth pressures and rapidly changing market forces now favoring walkable urban places.  And that we especially need them in suburbs, where many people prefer to live and where, as outmoded forms of automobile-dominated commercial development go out of service, there lie many opportunities to build them on "grayfield" redevelopment sites.  The case studies in the book provide examples of how forward-thinking communities and developers are doing just that.
The genius of the book, I think, is the combination of (1) chapters by experts that flesh out these premises on a macro level, with plenty of data as well as informed opinion; and (2) real-life examples of the creation of walkable suburban places, written by the very professionals who worked on making them happen.  While the latter approach perhaps sacrifices some objectivity that might be provided by commenters observing these projects from a more critical distance, it gains some fascinating insights about how decisions were made, obstacles overcome, and lessons learned along the way.
The book is of special interest to me, because many of the examples and illustrations come from the DC metro area, where I live.  Three of the eight case studies, for example, are based in the Washington region and discuss places and events that I know well; and the authors of at least two other chapters are also based in the area and draw heavily from their local experience.  The colorful and iconic map of the region's Metro rail-transit system appears twice, in essentially the same format, in two different parts of the book.
Making the case
The first substantive chapter is by the always-impressive Christopher Leinberger, a professor at George Washington University and nationally recognized champion of walkable urban places ("WalkUPs").  In fifteen pages, he essentially summarizes everything that is to follow in Suburban Remix:  He makes the case that the market for development is rapidly shifting toward WalkUPs and away from what he calls "drivable sub-urban" places, and further asserts that much of this demand will need to be met in suburbs.  He draws from his own research in outlining the top metro areas where that is happening already, citing some examples, including ones we will meet in more depth later in the book.
That chapter is followed by one written by Dixon, providing a brief history of suburban development, further summarizing current trends in the market, and laying out the comparative advantages of a more urban approach.
The next three chapters take a deeper dive into the market forces that are driving these changes.  Written by prominent development practitioners and advisers who work around the country, they provide expert analysis and data related to the demographic and economic forces currently affecting housing, office development, and retail, respectively.  And, importantly, they give readers a sense of what developers, planners and other practitioners need to know about their particular geographic markets before conceiving and shaping walkable suburban projects in those locations.
These opening chapters are followed by the case studies, which I found particularly fascinating.  They include close looks at the Washington, DC region as a whole; Tysons, Virginia, in that region; Miami Township in Montgomery County, Ohio; a part of Shanghai, China; North York Center in greater Toronto, Ontario; Dublin, Ohio, outside Columbus; Arlington, Virginia, also outside Washington; and Bellevue, Washington, outside Seattle.  Looking at these as a group, I wish there had been a more geographically diverse sampling in the United States.  None of the American case studies are from the South, for example, and none west of the Mississippi, either, other than Bellevue in the country's uppermost northwest corner.
The book closes with two more overview chapters, one on planning by Dixon, and one on placemaking by Beske.  The planning chapter includes some valuable insights and technical advice, including how market and cost considerations will affect design, and it also presents an excellent set of "core principles" that Dixon believes should guide any planning process for transforming a site from one that is conventionally suburban and automobile-dependent into one that is dense and walkable.  The nicely-illustrated placemaking chapter, one of my favorites in Suburban Remix, features examples of new walkable developments (including several from the DC suburbs) that, in Beske's view, creatively and beautifully include an appealing public realm as well as a functional mix of housing, office, and retail development.
Places leading the way
As noted, I found the case studies particularly engaging and illuminating as they describe the histories of each example from the point of view of folks who were themselves part of the story.  If I have a favorite, it's the one on Arlington written by Christopher Zimmerman, who was a member of the Arlington County Board for eighteen years and the member most involved in that jurisdiction's smart growth efforts, including its widely (and rightfully) hailed approach to transit-corridor planning along the Orange Line of the region's Metro rail system.
I know Arlington well (and have written about it) and, as someone who has lived in the region for 45 years, have watched its story unfold.  I particularly enjoyed Zimmerman's descriptions of the somewhat messy but necessary process of involving the public and of how the decision to place the Metro rail line and its stations underground was critical to the corridor's success.  (I so wish a similar decision had been made for the four Metro stations in Tysons, in nearby Fairfax County; unfortunately, it was not, and the transformation of Tysons suffers greatly as a result, in my opinion.)  I applaud and agree with his reflection that, as the County was making its way with the then-new practice of transit-oriented development, it made a few mistakes that compromise the street-level human appeal of some of the areas around the transit stations.
I also particularly enjoyed Stewart Schwartz's insightful description of how growth and development issues in the Washington region, including its suburbs, have evolved over the last few decades.  I have lived through those as well, if not nearly as intimately as Schwartz, who leads the local Coalition for Smarter Growth.  He accurately describes our region and its struggles to grow in a more sustainable and equitable way.
I only wish this chapter – the only one in Suburban Remix that examines a metropolitan region as a whole – had included some mention of how development and conservation issues interact in the region, or at least how they should interact.  The grand implied promise of what we have come to call "smart growth" is that, if we accept more density in the urban core and inner suburbs, we can save the surrounding countryside from suburban sprawl.  As a general matter, though, it is easier to find failure to realize that promise than it is to find success.  Across the country, we are doing well in many places in densifying; but we continue to fall short in stopping the spread of automobile-oriented suburban sprawl.
The reason I mention this in the context of Schwartz's chapter is that the DC region actually contains one of the country's brightest successes in making the tradeoff between development and conservation real:  the Montgomery County (Maryland) Agricultural Reserve.  The Reserve, which contains 93,000 acres of protected farmland northwest of Washington and its principal suburbs, was created in part by a pioneering Transfer of Development Rights program that also assisted urban development in the parts of the county close to DC.  Under the TDR framework farmers in a defined conservation zone were encouraged to sell the rights to develop their land to Montgomery County developers who wished to gain density bonuses and other benefits in zones where more density was considered desirable, including Bethesda and Silver Spring.  That is an important part of the region's development story.
I won't take the time and space to describe all the chapters but, in sum, this is an impressive work.  Suburban Remix is full of highly informed insights, data, and examples of very good development practices that have the potential to dramatically improve important parts of the American landscape.  It will take its place on my bookshelf alongside Retrofitting Suburbia (by Ellen Dunham-Jones and June Williamson) and the Sprawl Repair Manual (by Galina Tachieva) as books in this genre that I expect to consult often in my own work.
Limitations
All that said, it must be noted that the book does have its limitations. There are some subjects that I believe are important to 21st century suburban development that Suburban Remix does not address, really, except in passing.  Most notably, the authors pay scant attention to matters of equity, affordability, and sustainability.
In today's world, when we design and build new places that we hope will last for many decades, it is not enough to make them dense, walkable, and responsive to market trends; we must also make them just and resilient.  Suburban Remix includes three chapters explicitly and entirely devoted to market concerns (those chapters are indeed important and illuminating), but none that emphasize equity or the environment.
It's not that equity and the environment aren't mentioned at all, but we don't get the same level of analytical detail on those subjects as that presented regarding market and design considerations. It would be instructive to know, for example, what specific affordable housing strategies are best suited to which suburban redevelopment conditions and why.  It is mentioned early on that more and more poverty is coming to today's suburbs, but we don't learn about how new suburban development can best respond to the needs of low-income people, and the many examples of praiseworthy development in the book don't speak to these issues with much specificity.
Similarly, the core principles outlined in the overview chapter on planning tell us that the natural environment is important, but Suburban Remix is mostly silent on how such environmental development practices as, for example, green stormwater infrastructure and district energy systems are evolving.  The need for resilience to climate change (remember Hurricanes Harvey, Sandy, and Katrina?) and how suburban development should respond, is not even mentioned.  This is not the book for someone looking for informed advice on how to do suburban development sustainably.
Finally, it must be said that Suburban Remix is really espousing only a limited kind of redevelopment that is very large in scale and very high in density.  Dixon writes repeatedly in the book that, in his view, successful walkable urban places require "a compact critical mass – often three million square feet or more, on largely contiguous sites of roughly 50 or more acres."  In a passage in the planning chapter, he ups the ante to "three to five million square feet" and adds that "new walkable urban places usually require 60 to 100 acres."
Sixty acres correlates to forty-five contiguous football fields.  My goodness, that's huge.  Contributor Sarah Woodworth adds in her chapter that the stage is set for walkable redevelopment when "a mix of market-rate housing and retail more than triples" existing density.  The book's allegiance to very-high-density makeovers is perhaps most amplified in Mark Hinshaw's description of the redeveloped Seattle suburb of Bellevue, Washington as "a sort of American Dubai" that is "filled with 50-story towers."  (Tysons, Virginia, appears headed in a similar direction.)
This is all impressive, and there is obviously a market for it, but it may not always be the best way to go, and it certainly is not the only way to go, if our goal is to create a diverse mix of places that are more livable, walkable and sustainable than current-day suburbia.  Bethesda Row, discussed above and highlighted in the chapter on placemaking, for example, feels like a large development to me; but it comprises "only" some 533,000 square feet, according to its developer, and sits on twelve acres, not fifty or sixty.  Indeed, several of the developments featured in the placemaking chapter are similarly moderate in size.  While the authors are absolutely right that we should seize opportunities to redevelop very large grayfield sites, many smaller parcels can provide their own opportunities for a more incremental approach to better placemaking.
Moreover, there's a vast middle ground between low-density sprawl and the much-higher densities featured and advocated in Suburban Remix.  I couldn't agree more that we need to be done with sprawl, but there's a sizable part of the market that is looking for something denser than we have now but more moderate in intensity than, say, downtowns.  I applaud and recommend Suburban Remix, but I think there is also a need for an up-to-date book on remaking suburbs that features more of this middle ground.
If PlaceShakers is our soapbox, our Facebook page is where we step down, grab a drink and enjoy a little conversation. Looking for a heads-up on the latest community-building news and perspective from around the web? Click through and "Like" us and we'll keep you in the loop.