Goodbye Winter: Until next time, a few reminders on lovable winter cities
Last week, Super Man and Ghandi rolled into my neighbourhood. I know, it sounds like the opening line of a joke, but it isn't. Henry Cavill and Ben Kingsley were in town for a film set in winter and the active core of my city, Winnipeg, is one of the best choices for lovable urbanism and dependable winter – two of my favourite subjects. While most of the northern hemisphere is now experiencing full-on springtime with trees bursting to life and the chill effectively chased, winter cities are still capitalizing on the last of our winter wonderlands.
Just in time to share a few of the plethora of ideas from the Winter Shake-Up last month in Edmonton, which reinvigorated the couple thousand attendees with pointers on how to make winter cities more lovable by making them walkable, bikeable, and transit-friendly. You've heard me blog on these ideas before, here and here. While winter cities may spend most of their brand management on showcasing regional winter amenities, the greatest winter cities provide delight on the neighborhood scale. This delight, or lovability, translates directly into livability.
Some of the highlights from the conference for me include The Debaters arguing which is the coolest season, and the Winnipeg cohort of Mayor Brian Bowman, Councilor Jennie Gerbasi, and Forks CEO Paul Jordan talking about the key details of how my city celebrates winter. This blog pulls from their ideas, along with leading winter cities thinkers Susan Holdsworth, the City of Edmonton, David Holdsworth, Jason Roberts, Daniel Firth, Vélo Québec, Tyler Golly, Bartek Komorowski, Susan Yackulic, Urban Poling Alberta, Robin Mazumder, and Dr. Karen Lee, all worthy accounts to follow on Twitter. Check out #WinterShakeUp for a more complete idea review. 
Warming Up to Pedestrians
Five urban design essentials for walkability in winter cities are similar to their southern neighbours: street character, the useful walk, shelter from elements, civic anchors, and human scale. Each of these elements has a litany of benefits, like the useful walk requires a mixture of uses within each neighbourhood, which increases safety during long winter nights. 
No mixed-use = no eyes on street = not safe. When it only takes five minutes out my door to get me to the heart of my neighbourhood, I'm more likely to suit up and dare to live outdoors. This requires us to upgrade our land use laws to move from a city of zones to a city of communities. 
Wellness of Walkability
The happiest places in Edmonton are the places that are sticky for pedestrians, like 104th Street pictured above, according to testing tours conducted by Robin Mazumder. His work points out that happiness and cities are tightly connected and that we often try to medicate problems that are much more easily solved by nurturing social connections. A person is not disabled: the environment often is.
Dr. Karen Lee's work also ties health to urban form. The majority of people prefer urban forms that not only are more likable but also tend to promote health. Public health and city planning grew up together, then they grew apart. We need to get back together. 
Clearing the Way for Cyclists
Remember, in the 1970's, Copenhagen was an autocentric city. We can all change. Walkable, bikeable, transit-rich places are good for drivers too, by reducing congestion.
Places that have figured out cycling network winter maintenance are reaping significant benefits. Bike lane design should consider snow storage and removal. Instead of only shoveling away the snow, places like Stockholm that follow up with a snow brush and a brine solution. Thanks to this practice, winter cycling rates have gone up by 30%.  
People in walkable, transit-rich places spend a mere 9% of income on transportation. In car-dependent places, that number is over 25%. 
Amping up Design
In Winnipeg, an annual international design competition for warming huts along the Red and Assiniboine Rivers generates a fun regional draw every year. Along the world's longest natural skating trail, The Forks Warming Huts and Paul Jordan facilitates creativity and culture. We have five seasons in Winnipeg: spring, summer, autumn, winter, and polar vortex. Winter is a major economic driver. Other cities are following suit, like Toronto's Winter Stations, now in its 3rd year.
A Few Edmonton Favorites 
Found Meat For Dinner based on the line forming on the sidewalk at 5pm, at 104th Street NW, between 82nd and 83rd. Excellent winter food! This image is clearly before 5pm!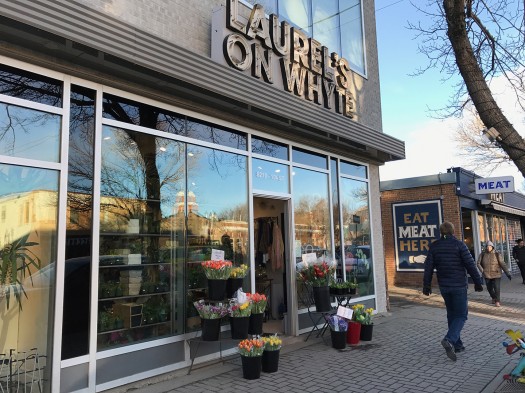 "Inhabiting the sidewalk is a gift to the street." ~ Steve Mouzon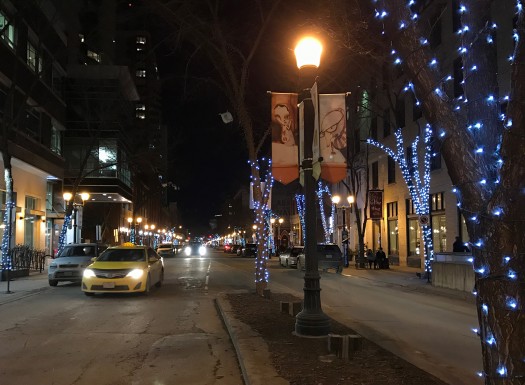 104th Street NW at Jasper Avenue, in Downtown Edmonton.
"Nothing says 'Come in' like an open door." ~Bob Gibbs
If you want to dive a little deeper into how to nurture lovable winter cities, join us at CNU 25 in Seattle, and consider the day-long Project for Code Reform Workshop on Wednesday, May 3. Hope to see you there, or if you can't make it in person, follow the big ideas at #CNU25.
If PlaceShakers is our soapbox, our Facebook page is where we step down, grab a drink and enjoy a little conversation. Looking for a heads-up on the latest community-building news and perspective from around the web? Click through and "Like" us and we'll keep you in the loop.