We'd like to help celebrate this year's Groves Award Winner! Andy Blake, City Manager for the City of Ranson, West Virginia, will receive the 2016 Groves Award, given annually by the Congress for the New Urbanism and the Transect Codes Council to recognize outstanding leadership and vision in the promotion of Transect-based planning.
The jury selected Blake for his leadership in shepherding a series of Partnership for Sustainable Communities grants from the U.S. Department of Housing and Urban Development (HUD), the Environmental Protection Agency (EPA), and the U.S. Department of Transportation (DOT).
Those efforts resulted in:
• A sector-based Comprehensive Plan,
• A Transect-based SmartCode,
• Planning and entitlements for five brownfield sites, and
• A green corridor plan that received TIGER II and IV funding and is in final stages of construction.
• Groundbreaking in 2013 for $100 million in new development and redevelopment.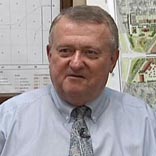 The Center for Applied Transect Studies created the Groves Award to recognize leaders such as Blake. It's named in honor of Ken Groves, the late Director of Planning and Development for the City of Montgomery, Alabama. Groves' vision and implementation leadership helped Alabama's capital city begin its journey back to prominence and sustainability.
Blake will receive the award June 9, 2016, at the 24th Congress for the New Urbanism in Detroit, Michigan.
PlaceMakers is delighted to be a part of the extensive team that assisted Andy Blake in his Ranson Renewed | Charlestown Connected work, and find inspiration in Andy's ongoing leadership.
At the Groves Award time of every year, we pause to remember one of the most inspiring City Planning Directors and public servants we've known. One of Ken Groves' quotes that rings on for us, as he talked about he and his wife's choice to trade in their home for a smaller space in the very walkable Hampstead:
I dwell small and live large.
If PlaceShakers is our soapbox, our Facebook page is where we step down, grab a drink and enjoy a little conversation. Looking for a heads-up on the latest community-building news and perspective from around the web? Click through and "Like" us and we'll keep you in the loop.