Suburban Retrofits: A deep dive
A couple weeks ago, Ellen Dunham-Jones produced a Placemaking@Work webinar that she described as a deep dive into the suburban retrofit case studies, with an hour-long lecture in preparation for the 23rd Congress for the New Urbanism in Dallas, April 29 through May 2. This session is free until the beginning of the CNU here, but in the mean time, I had a few follow-up questions that she kindly answered for me.
Ellen Dunham-Jones, Georgia Tech professor of architecture and urban design, literally wrote the book on the strategy with co-author June Williamson: Retrofitting Suburbia; Urban Design Solutions for Redesigning Suburbs (Wiley & Sons, 2008, 2011, 2013). In the webinar's update of their research, Ellen offers case studies suggesting what retrofitting approaches seem most promising in what contexts. The first edition of Retrofitting Suburbia received the 2009 PROSE award for architecture and urban planning from the American Association of Publishers and was featured in Time Magazine's cover story, "10 ideas changing the world right now."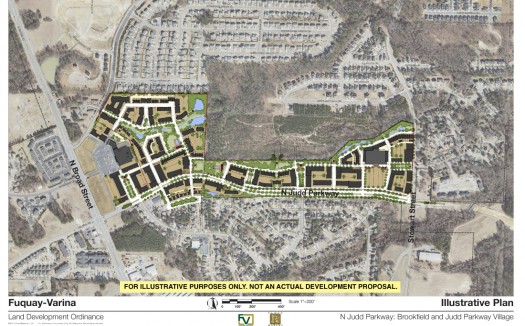 Q1: When people are undertaking a suburban retrofit, often they are looking to add the missing parts of the neighborhood: more places of work and play closer to where they live. We frequently hear things like, "I just want a place where I can walk to dinner with my wife," or "I'd like to be able to walk to lunch from where I work," or "I'd like to not have to drive across town to my child's school." Outside of these personal desires to complete our neighborhoods, you mentioned that the biggest market drivers of suburban retrofit include demographic shifts, new centers, and price premiums. Which of these forces would you say is the strongest?
I think the demographic shifts are driving the price premiums and combine to make an extremely strong force for change. However, even with these factors at work, the importance of a strong, local champion can't be underestimated for both small and large projects.
Q2: You offer up a pithy summary of the US market, noting that of the 1,100 shopping malls, one third are dead or dying. The 50,000 strip malls have a 11% vacancy rate. Within the 350,000 big box stores, 300 million square feet are vacant. However, you point out these dynamics have been around awhile, with the newest marker being the suburban office vacancy rates of 16-24%. What has changed to make these suburban offices less attractive?
There are several converging factors here. The one most frequently cited by CEOs is the need to relocate to the cities that are attracting the educated 25-34 year-olds that they most want to hire and who, for the most part, find the idea of working in a Dilbert-like suburban cubicle un-creative and toxic. Additional factors include the fact that computers have automated many of the clerical jobs that used to be done in the suburban back-offices at the same time that space/employee standards have significantly reduced. The wave of '80's office parks and corporate campuses are aging and increasingly out of date, while the cities have become immensely more livable than they were in the '70s. So, we're seeing the tide reverse itself as a wave of corporate relocate out of suburbs and back into cities and newly named "innovation districts."
Q3: We know that not all suburban conditions are good candidates for Sprawl Repair. What are the key characteristics of the most likely candidates?
June Williamson and I emphasize that different markets demand different strategies. We boil retrofitting down to three basic strategies:
1. rehabilitation with more community-serving uses (such as repurposing a dead big box as a library, gym, church or medical center);
2. redevelopment into compact, walkable urbanism (such as the 24 built examples of dead malls that have been demolished and reconstructed as new downtowns); or
3. regreening (whether that means daylighting the creeks that were culverted under the parking lots, reconstructing the wetlands, or putting in parks or community gardens.)
One has to determine why the property died in the first place and assess the strength of the local market to determine which strategy is most appropriate. The best places will combine some aspects of all three and create urbanism which connects us to the past, the future, and to nature.
Q4: What role does timing play in all of this?
Phasing development appropriately to meet the market is incredibly important. Sometimes, we know that transit is planned for an area but we have no idea when (or if) it will actually happen. Other times, the pace of growth is likely to be very incremental. In these cases, it often makes sense to employ short-term tactics that anticipate future long-term redevelopment. For example, I've seen big box stores allowed at nascent TODs but whose parking lots were designed as future building sites. The parking lot drive-lanes are designed as future streets lined with utilities and street trees anticipating future urbanization. Movable, small liner buildings, such as those at Mashpee Commons, are another great strategy to screen parking lots while reinforcing a walkable streetscape. They have the added benefit of serving as great incubator space for local retailers.
Q5: You list the biggest challenges of suburban retrofit as auto dependency, public health, social capital, equity and affordability, jobs, water, and energy. Your forthcoming book will speak to the variety of tools locals are putting together for a holistic response to these challenges, looking toward layered solutions and performance metrics. What are your top three cities or towns who've put some of these suburban retrofit ideas into action?
The greater Washington DC area wasn't hit as hard by the recession and revved up retrofitting when everywhere else slowed down. Many of their retrofits are a result of the extension of their subway system but it also has to do with their governance structure. They have several very strong county planning departments, such as Montgomery and Arlington, that have great capacity for negotiating the complex public-private partnerships that retrofits require. Austin, Denver, and Portland have also been raising the bar.
Q6: During our tweetchat a couple weeks ago, your most retweeted statement was, "Great transit may eclipse great schools as the prime factor determining real estate value. Communities with both will be big winners." The fact that 60% of the nation's households consist of just one or two people seems to be taking awhile to sink in for some of the development community, which we can see by the 62% of US dwellings that are single-family detached houses. Are there regions within the US that are realigning to these market realities more quickly than their peers?
Many regions known for sprawl are aggressively investing in light-rail transit – from Dallas to Los Angeles – while others are seeing success with streetcars and Bus Rapid Transit, such as Charlotte, El Paso and Cleveland. I think the jury's still out on who will figure out how to best leverage these assets – but it's great to see so many cities now in the race!
If you'd like to delve further into conversations with Ellen, join us in Dallas for CNU 23!
If PlaceShakers is our soapbox, our Facebook page is where we step down, grab a drink and enjoy a little conversation. Looking for a heads-up on the latest community-building news and perspective from around the web? Click through and "Like" us and we'll keep you in the loop.