Next Urbanism Lab 01: The layers that built San Diego
My city's downtown is built on decades of layers. Planning trends layered upon planning trends. Over its history, through a long list of award-winning vision plans, San Diego has earnestly followed what every other city has done.
Not to discount the quality of the plans, mind you. After all, John Nolen did two. Kevin Lynch prepared one. Mike Stepner, FAIA, FAICP, gave us several. Incoming APA President Bill Anderson, FAICP, did our latest city plan, and John Fregonese is preparing a new one this year.
The point instead is to illustrate a legacy of following rather than one of leading. Consider, for example, the history that led us to where we are today.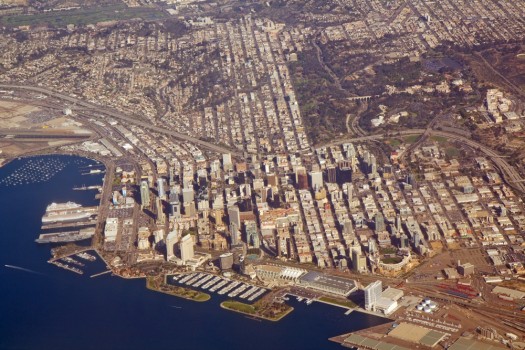 First, the ocean, bay, waterfront, canyons and mesas geographically defined our city. That's when we new folks showed up and brought the following:
King Ferdinand of Spain gave explorers the Law of the Indies, development regulations that shaped our Old Town grid, plaza, and first building. The Spanish also put us on the Mission trail;
After being developed by the Greeks several centuries ago, the Jeffersonian grid marched its way across North America, ending up here around 1846;
The trains arrived in the mid-19th century which, together with San Diego's larger than Los Angeles water port, gave our city expectations for greatness;
The Great Park, now Balboa Park, was the planning trend of the 1870s when Alzono Horton laid out his New Town. Frederick Law Olmsted had sparked this trend with New York's Central Park, an effort to forge places where, in response to the Civil War, people could coexist equally. Mysteriously, Old Town's City Hall burned down just as New Town's City Hall opened;
Our 1915 Panama-American Exposition in Balboa Park was a spin off of the World's Fairs, made famous by Chicago's White City, London's Crystal Palace, Paris' Eiffel Tower, and New York's Futurama. Our Expo gave us Bertram Goodhue's Spanish Revival architecture that went on to redefine southern California's character. We tore down our Victorian train depot for a new Spanish Revival one;
1920 streetcar neighborhoods sprouted out from downtown and around Balboa Park;
1930's Depression gave us fantastic WPA civic buildings along our waterfront;
1940's World War era expanded our airport and military installations downtown;
The 1950s saw our freeway snake around downtown, effectively cutting it off from Balboa Park. Residential building was deemed illegal and people readily used those freeways in their escape to the suburbs;
In the 1960s, we built our Central Business District and made our streets one-way, most of which remain as such today. Downtown descended into a sailor's paradise of bars, X-rated theaters, and locker rooms. We moved and built a new City Hall. One we're proposing to tear down and move again;
1970's Federal Bicentennial monies allowed us to redesignate 5th Street as our "Gaslamp Quarter" and it is quickly becoming our own Bourbon Street, desperately in need of a Super Bowl victory parade one day. Plus, our first urban housing, duplexes, was demanded by then Mayor Pete Wilson in return for building the great suburban subdivisions in Rancho Bernardo;
The 1980s saw our downtown Mall, Horton Plaza, and modern office towers, plus the arrival of the first modern trolley system in the United States. We built the obligatory Convention Center that we continue to subsidize and expand today;
The 1990s gave rise to full-block housing redevelopment projects using twin towers, then the Vancouver podium model, and today's tower buildings adorned with Art Deco Fins;
2000 gave us a downtown baseball stadium and the new East Village housing blocks;
And, finally, our new Main Library will open in East Village this year.
Judging from this list, it appears the only trend downtown San Diego didn't lift from other cities was 1990's aquariums. And the fact that, as we were never a train crossroads, we never built a Union Station. But beyond that, we've been steadfast emulators of other cities' successes.
I recognized these trends while comparing our city to Barcelona's cityscape, with its Roman Core, Cerde's grid, and new Olympic Village layers… and I ended up feeling better about San Diego (sometimes familiarity breeds contempt). We do have multiple layers of history wrapped into our city over a very short time period. The questionable part is how we continue our efforts to follow other cities' successful trends in the name of chasing economic development, over and over again.
But has it been failed policy? After all, while none of these copycat maneuvers, in and of themselves, ever solved our city's issues at the time, they've collectively given us a rich urban fabric to build upon.
And build upon it we will. But how? In subsequent posts, I'm going to discuss what I believe are San Diego's "Next Urbanism" trends that will define where we're headed. Will we take the lead in urban innovation? Or will we continue to take the safe path of emulation?
Tune in and find out.
If PlaceShakers is our soapbox, our Facebook page is where we step down, grab a drink and enjoy a little conversation. Looking for a heads-up on the latest community-building news and perspective from around the web? Click through and "Like" us and we'll keep you in the loop.