Half-way through our family's relocation to the woods for the month of August, placeshakers have been asking me for town planning lessons learned. It's challenging to encapsulate a place as extraordinary as Victoria Beach, with its 101-year history of car-free summers and an elegant street grid of dirt roads that are tremendously kid-friendly. I've been blogging about the plan here and here, although am really just beginning to scratch the surface.
Vision, and its Keepers
"Those who followed the first cottagers from Winnipeg have carried forward the ideals of the founders … have made Victoria Beach have a strong appeal to those citizens of the province who desire 'something different.' … Many times has it been represented to the Victoria Beach Company (the developer) that the time has arrived for board-walks, paved roads and automobile facilities. It is safe to wager, however, if it is left to a vote of the cottagers that there will be nothing done to destroy the wild life and rustic simplicity which adorns this beach."
~The Victoria Beach News, June 1926
While we placeshakers usually discourage mono-cultures where the car is banned, we do recognize that in a few careful instances, it works. For me, the message isn't so much the limited modes of transportation allowed at Victoria Beach during the summer — walking, cycling, swimming and boating — but rather the strong local  consensus that has protected this vision over the past century.
Reading The Victoria Beach News and Victoria Beach Herald over the last 87 years — thanks to my friend, Andrea Cibinel, for lending me her copies — vision keeping wasn't always an easy task. But then, it never is.
For instance, long after electricity was widely available, Victoria Beach was still using kerosene. This was because the power company wanted to widen the streets, remove trees, and put the power lines down all the primary streets. The locals were rewarded several years later, when the lines were put in the "rear lanes," right of ways primarily reserved for power and water lines, cleared every few years.
Another inspiring story about local tenacity was as the Victoria Beach Company developer transitioned to its second generation, and Art Vincent wanted to ensure this vision stayed strong. He personally bought all the development company shares and bequeathed them to the municipality, to ensure all the civic amenities remained as planned, without encroaching homes. He was guaranteeing that the development stayed true to its plan.
This sort of insistence on a vision becoming reality is exactly what makes this place — and any place — special.
"Rome wasn't loved because it was great. Rome became great because it was loved."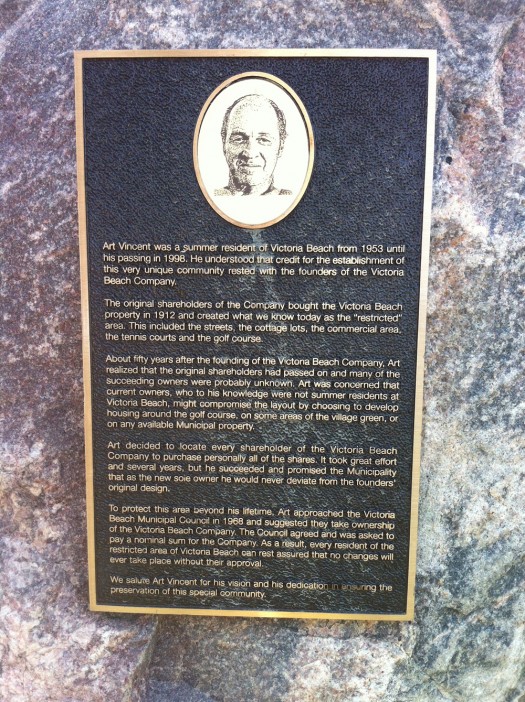 Destinations
"The summer resident at Victoria Beach will find … merchants courteous and obliging, whose merchandise shows little advance in city prices, even if the competition of the chain stores and the department emporiums have brought down the cost of living … to the lowest basis."
~ Victoria Beach News, June 1930
For those not unplugging for a true vacation, a 10-hour workday (if you must) is way more enjoyable in a walkable, bikable place, where you're likely to hop on a bike and cycle to the square for a cup of coffee or a loaf of bread or the morning paper.
Useful destinations in a compact form make us all more active, woods or no woods.
"Freedom from the touring auto makes the roads and the avenues safe for even the youngest, and makes hiking along the verdure-clothed walks easy and enjoyable."
~ Victoria Beach News, June 1930
We often talk about free-range kids here on Placeshakers, with the popsicle test as a measure of walkability.  This month at Victoria Beach, we let our 8-year old walk to the square with his friend, to bring home a quart of ice cream for dinner. This sort of freedom was exceptionally heady for him — and us!
We also talk often about the impediments to kid-friendly places across North America, and how we might fix all that.
"The families of C.W.N. Kennedy, F.C.N. Kennedy, Charles Vokcs, Dr. Webster and George Elliott … were visitors at Victoria Beach years before there was a train service, when they came out by boat from Selkirk and encountered many a storm and ran into many dangers before they reached the shore of the beach. … They brought all their provisions for the boat only ran once a week and there were no stores in the district."
~ Victoria Beach News, August 1927
The cottage that we're fortunate enough to be the stewards of this month was one of the first to be constructed in Victoria Beach, with the family significantly contributing to the community for three generations now. I've blogged before about the importance of building for a century or more, and this place certainly does that.
We often talk about living in season, and I used my own porches in the city as examples in Porch-tastic. However, the woods gives the city a lesson or two in how it's done!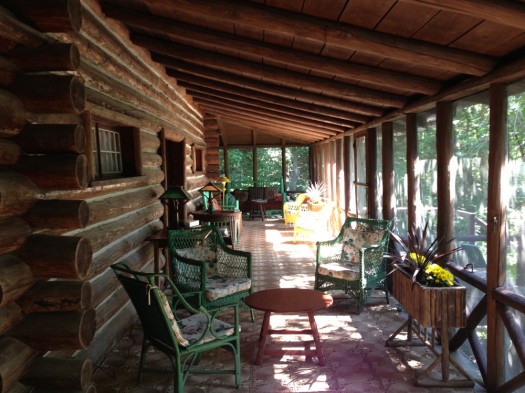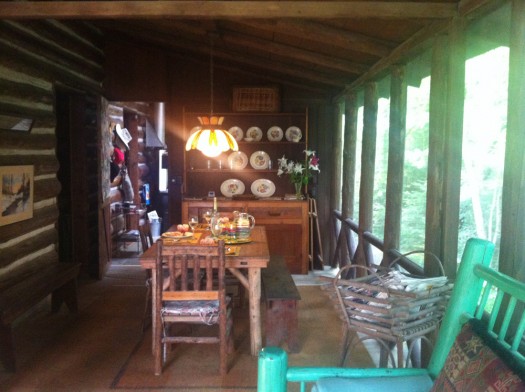 Services and Amalgamation

"The walks from the cottage to the links are among the chief joys of a day's play; and here, as in every other part of the beach, there are no autos to interrupt a ramble through leafy bowers."
~ Victoria Beach News, June 1931
I'm not prepared to get into the subject of the proposed amalgamation of the rural municipalities in Manitoba, in order to share services and reduce cost. Only to say that the locals are significantly concerned that the services that Victoria Beach has worked so hard to nurture for the last 100 years — along with the unusually high rural densities of a summer population up to approximately 9,000 (per local police, although Wikipedia says 16,000) — will be put at risk if shared with other far-flung communities.
Satisfying local amenities include a community centre, bakery, restaurant, general store, local weekly newspaper, tennis courts, golf course, library, marina, and a community church — all in a car-free environment. Services include fire, police, water, garbage collection, and recycling. Sargent Raven, below, says that they haven't been able to locate another car-free community quite like this one on North America. However, an amalgamation would take police counts in the summer from six in Victoria Beach proper to two in the region.
Sandcastles and Sunsets
"Children's sports will be run off in the morning, commencing at 10.30 o'clock, on the sands of Patricia Beach, and there will be prizes for castle-building with the sand, and for those having the best coat of tan. Free ice cream cones will be given out at the close."
~ Victoria Beach News, July 1931
No blog about a beach community is complete without a few sandcastles and sunsets. All about dreaming up how to protect and nurture great places, while allowing the new ones to draw from the lofty lessons of the past.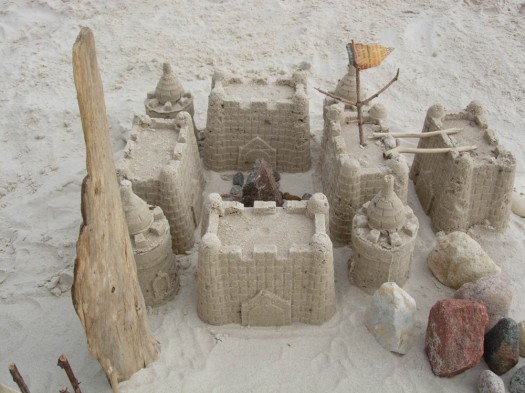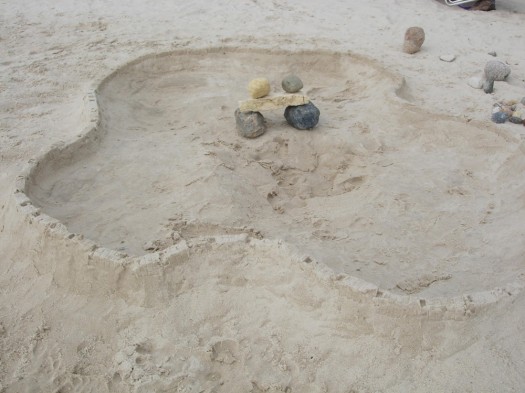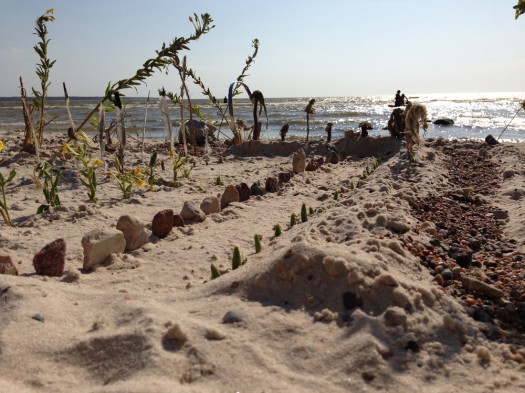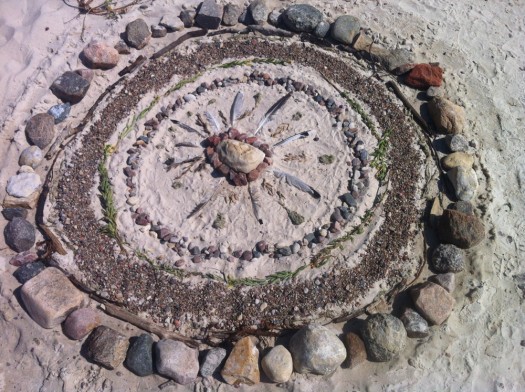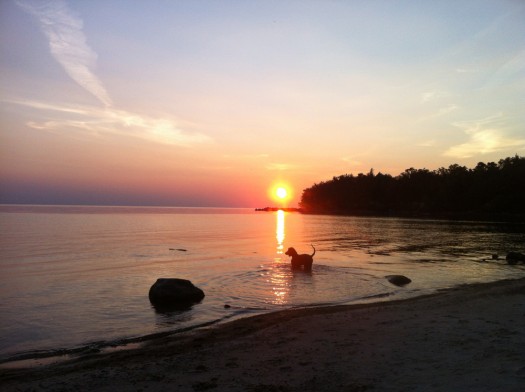 All the images above from Patricia Beach, at the Rural Municipality of Victoria Beach.
If PlaceShakers is our soapbox, our Facebook page is where we step down, grab a drink and enjoy a little conversation. Looking for a heads-up on the latest community-building news and perspective from around the web? Click through and "Like" us and we'll keep you in the loop.